Trustworthy Expertise – About CMG Electric
You can depend on the experts at CMG Electric – a family-owned, full-service electrical contractor. Home and business owners just like you have experienced the difference that comes with the CMG experience. We've been serving clients with a variety of electrical needs across Western Washington since 2005.
From simple home electrical repairs to complete design and installation of complex electrical systems for business, we've handled it all. You'll find our highly skilled electricians are experts in all aspects of electrical work and are dedicated to providing you with the highest quality service possible. Your job is done quickly and accurately. We can help with everything from installing new electrical wiring in your house, to adding an electric vehicle charger, to optimizing the electricity in your home.
Our mission is to provide you with the highest quality electrical work while maintaining a commitment to safety, service, and satisfaction.  That's why we love maintaining long-term relationships with clients just like you!
Electrical Services with a Satisfaction Guarantee
CMG Electric takes pride in our reputation for honesty, integrity, and quality – our name is our word. You'll receive our commitment to the best possible service. You'll notice that every detail is accounted for and the job is done right. In fact, we are so certain of your satisfaction, that we'll guarantee it – or return and make it right! This commitment ensures that your projects are completed on time, within budget, safely, and with respect.
CMG Electric always meets or surpasses all applicable laws and codes. Safety is our highest priority –for you and for our crew. Our company is licensed, bonded, and insured for your protection.
Rest Assured – CMG Electric Job Sites are Safe, Clean, and Quiet
When CMG Electric is working in your home or business, you'll hardly know we are there! We'll work as quietly as possible and will leave the job site cleaner than we found it. You'll see that our crews are friendly, quick, efficient, and meticulous. We treat your home or business with the same degree of care with which we treat our own.
Since we started in 2005, our business has grown exclusively by word of mouth referrals thanks to our earned reputation for consistently completing projects by (or under) deadline and at (or below) the price we quoted. We are the "Type A" personalities you want on your jobs.  Yet, we are also flexible enough to work with a diverse clientele and can overcome language barriers in addition to electrical challenges. We take pride in every job we do and make sure it is done right the first time. Our dedication ensures you get all the benefits that come with our work.
Casey and Maria Gerstner
The pair founded CMG Electric in 2005 as a residential and commercial electrical contracting company. As with all honest ventures, CMG Electric grew out of a desire to address the question: "How can we care for our family while helping to fulfill our community's need for a quality service?" That was the impetus for CMG Electric. Casey and Maria combined their talents and skills with their love for the local area, turning them into something bigger and better than initially imagined!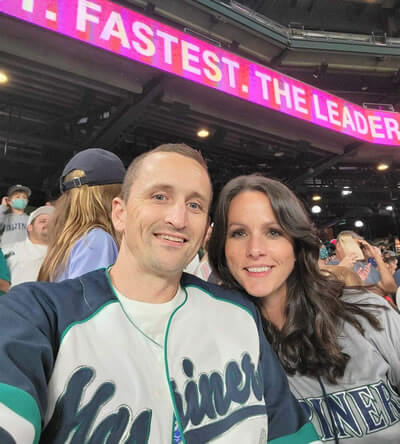 Adam Relf
With his background as a licensed building inspector, Adam has worked nearly 20 years in the construction industry, gaining hands-on experience in both residential and commercial trades. In 2008, he enlisted in the Washington Army National Guard. He continues to serve as a soldier and as a licensed electrician, earning recognition for superior critical thinking and dedication to quality. Adam and his wife Lindsay are raising their four children here in the Evergreen State where they enjoy family outings kayaking on the Puget Sound.
Kenneth W. Sheedy
With an uncle and a grandfather who are both retired electricians, Kenneth has elected to follow in their footsteps.  He would like to be an apprentice – because building, understanding, problem-solving, and designing in the electrician field is challenging and fascinating work, and a skill worth having.  He is happily married to his gorgeous Decatur High School sweetheart, Joy. They both find great inspiration in being active, walking through Seattle and hiking through the beautiful Washington trails.  There is never a moment when they are not making new friends and building relationships with the people around them.  In his own words, Kenneth is "ecstatic to be working with wonderful people such as Maria and Casey."